let's turn back time with a
PDO thread lift
What Are PDO Threads?
PDO Threads are a synthetic absorbable surgical suture composed of polydioxanone, that is the same absorbable surgical sutures used by surgeon when performing surgery. These threads are made of one of the safest materials to be implanted in the body, and they are FDA approved.
What happens during treatment?
The threads are introduced into the skin through a fine needle- into either the skin itself, the muscle, or the subcutaneous fat. The treatment results in an immediate improvement in appearance but the results will improve over subsequent days and weeks as the PDO threads stimulate neocollagenesis, increasing the amount of collagen in the skin. The appearance of the skin improves in terms of overall texture, becoming thicker, tighter, and firmer as fine lines and wrinkles are reduced.
What results can I expect?
Thread-lift treatments result in an instant and natural looking improvement in the appearance of the skin. A process of natural protein synthesis then begins after about 10-14 days. Over the subsequent weeks results will continue to improve, peaking at around 6 months and lasting for up to 2 to 3 years as your own body produce collagen, elastin, and hyaluronic acid. Making this form of non-surgical facelift a very long-lasting treatment. The thread itself is completely biodegradable and dissolves within 12 weeks, after which new collagen has formed around the thread to continue to support results, maintaining a smooth and supple texture of the skin.
Uses:
Tighten the skin on the neck or chin
Tighten the jawline
Reduce nasolabial folds and marionette lines
Brow lift
Cheek lift
Breast lift
Brachioplasty (underarm lift)
Avoid Before Treatment:
Alcohol
Ginko
Omega fish oil supplements
Vitamin E
High-intensity workouts
Steam rooms and saunas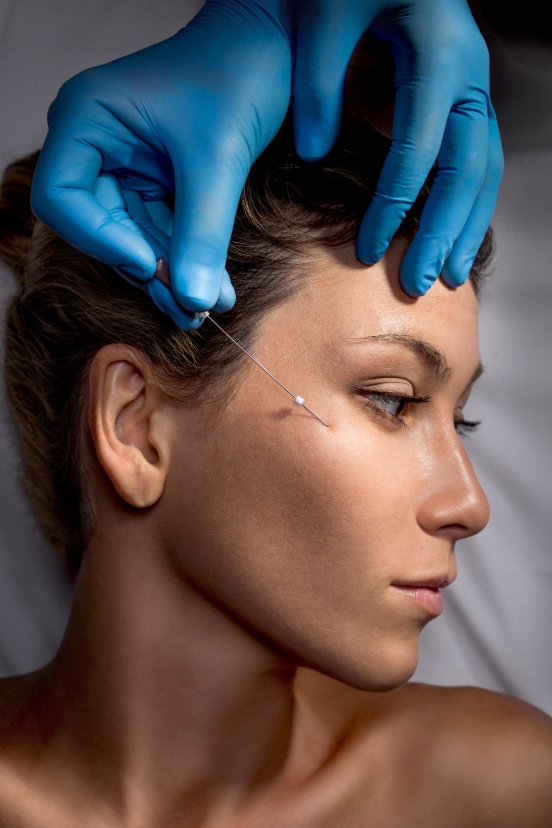 Will the procedure hurt?
No. 1 hour before the treatment we apply a medical grade numbing cream containing Benzocaine 20%, Lidocaine 8% and Tetracaine 4%.
How Long Does A Thread Lift Take?
After the 1 hour wait time for numbing, a thread lift takes somewhere between 15 to 30 minutes per thread. As the procedure is minimally invasive, patients are free to return to the rest of their day following the treatment.
General Aftercare Advice:
Some pain/discomfort after treatment can be expected, Ibuprofen can be taken if required.
Do not have any other aesthetic procedures to the area (such as toxins, fillers, peels etc.) for 7 days.
Avoid extreme temperatures, alcohol, and anticoagulants for 7 days. Those taking Prescribed anticoagulants such as aspirin/warfarin must continue to do so but must be aware that bruising is more likely
Gently wash the treated area as required, but do not rub or massage for 2 weeks.
It is important not to overstretch the treated area (i.e., open the mouth wide) for 4 weeks (avoid dental treatment during this time if possible)
Do not have Radiofrequency, IPL, Laser, or other heat treatments near the treated area for 10 weeks