What is the ADVA Laser?
The ADVA is an FDA approved laser that treats a multitude of skin concerns including brown spots and hyperpigmentation of all kinds, melasma, broken capillaries, red or diffuse redness to skin, rosacea, pore size, active acne, cystic acne, acne scars, facial and body scarring, fine lines, deeper wrinkles, tone and texture of skin and brightness of skin.
How is the ADVA Laser different than other lasers?
Because there are so many different lasers available today, it's easy to become overwhelmed by all of the options.
Most lasers have a very specific and precise concern that they treat, while the ADVA laser technology effectively treats a broad spectrum of skin concerns all at once, while promoting and maintaining overall healthier skin.
Who is a candidate for ADVA laser services?
This is the beauty of the ADVA! Almost everyone is a candidate because of how safe yellow based lasers are. Whether you have very specific and precise things that you want to address or if you just want to maintain your skin, the ADVATx laser not only ensures visible improvements to the skin, it boosts collagen production to keep skin healthy, youthful, smooth, soft and glowing.
Is there downtime?
Nope! Which is amazing because most lasers that provide the caliber of results that the ADVA is capable of, typically require a lengthy and uncomfortable experience and recovery. Your skin will glow after this appointment.
In most cases we can remove broken capillaries within 1 treatment. Pigmentations or darkened areas of the skin will begin to lighten after your first service. Plenty of patients will go back to work after treatment, run errands or go on a date night with their newfound glowing skin.
When will I see results?
While this will vary from one patient to another based on the health and integrity of your unique skin, all clients will see improvement after one service. We take photos to track your progress.
How many treatments do I need?
Everybody has their own unique goals they want to meet. Based on that information, we create a treatment plan so that you have realistic expectations. A general rule for this service is 3 treatments, 4 weeks apart. We take the time to fully understand your goals and expectations so that we can be sure we help you achieve healthier skin.
Can I treat areas other than just my face?
Absolutely. This laser treats pigmentation or darkened areas that are present anywhere on the body. This includes acne scarring to the body, surgical scars and injury pigmentation or scarring. We commonly treat the face, neck and chest together but the ADVA can treat all areas of the body.
What products should I use to maintain my results?
Anytime we create a treatment plan or recommend any of our services here at Vanity Skin and Laser MedSpa, we make sure we give you all the tools you need to reach your healthy skin goals.
This includes the products that you use at home on a daily basis.
To maintain the best results possible specific to the ADVA, we recommend a Vitamin C based serum, a retinol and proper sun protection, at a minimum. Our goal is to make your results last so we always assess your skincare regimen to ensure it suits both your skin type and your skin concerns.
ACNE
Acne TT x 589 nm followed by 1319nm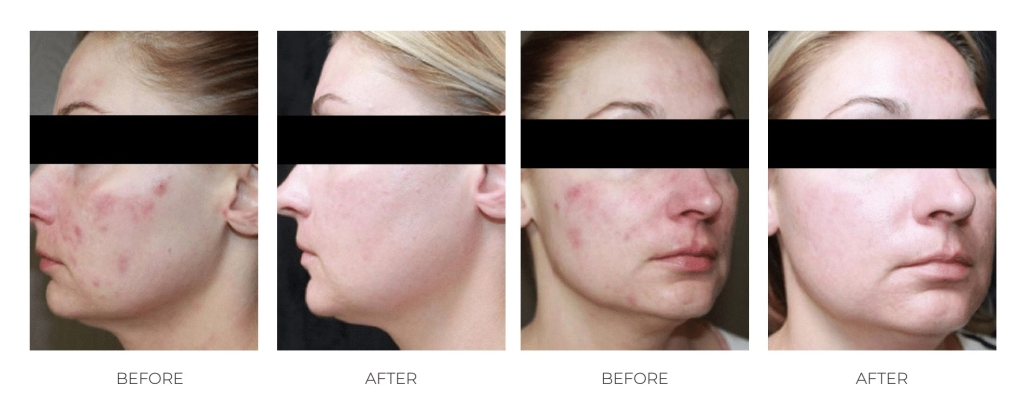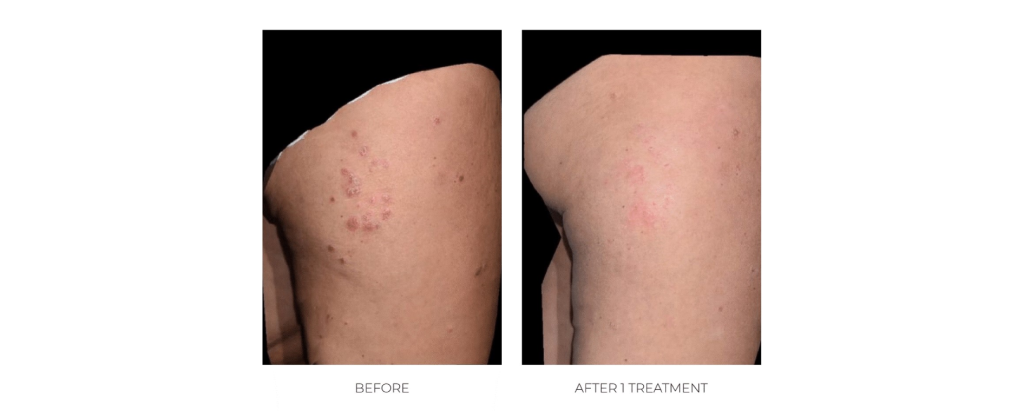 MELASMA
589 nm followed by 1319 nm