Dermaplaning
Dermaplaning is a non-invasive skin resurfacing procedure that uses a special blade to gently remove dead skin cells and unwanted facial hair. This gentle treatment immediately leaves the skin smooth, soft, and vibrant. This exfoliation technique is ideal for the removal of vellus facial hair (peach fuzz), which traps excess dirt and oil.
What is dermaplaning?
Many people would like to enhance skin quality, but do not respond well to chemical treatments. Dermaplaning offers an excellent alternative to skin enhancement, as it is entirely natural and does not require the use of chemical products. The procedure is performed with a special exfoliation blade which is gently scraped across the skin surface, removing dull, dead skin cells along with peach fuzz.
Dermaplaning in Coral Spring Florida
Because dermaplaning is a quick procedure with few to no adverse effects, it has quickly gained popularity. With a blade and a delicate touch, the skin's surface is gently abraded with light, feathering strokes. Because pregnant or nursing women are often unable to use peeling agents due to any risk that the chemicals will be absorbed into the bloodstream and could be transferred to a growing baby or breastfeeding baby, dermaplaning is an excellent treatment for women who are pregnant or nursing who want a deep exfoliation. It is also an excellent option if you have an abundance of facial hair or peach fuzz. Tiny facial hairs can trigger a buildup of dirt and oils in the follicles, so removing the hair creates a healthier skin environment.
What are the benefits of dermaplaning?
Kit includes:
BLADES
SHARP CONTAINER
HANDLE
ONLINE ACCESS TO TRAINING VIDEO
INSTRUCTION MANUAL
LIVE LESSON
ANTISEPTIC WIPES
SKIN PREP SOLUTION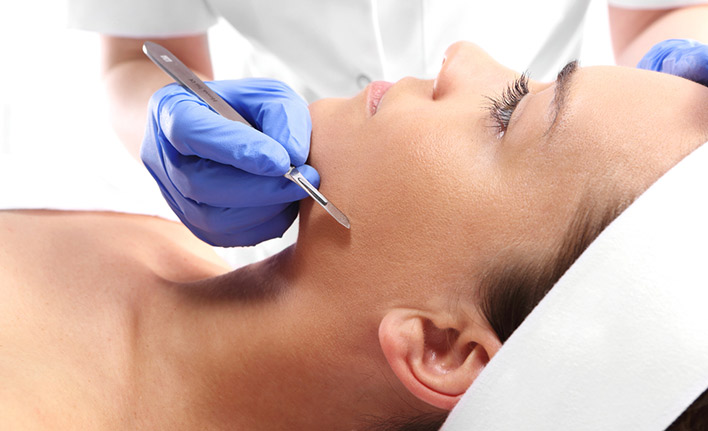 Dermaplaning: Preparing your skin for treatment
Removing the dead skin cells on the surface allows skincare products to penetrate more readily into the deeper layers. We may recommend this treatment to prepare the skin for medical procedures such as laser treatments or deep chemical peels. It also may be used by our certified aestheticians to prepare the skin for a superficial chemical peel or before a cleansing facial.